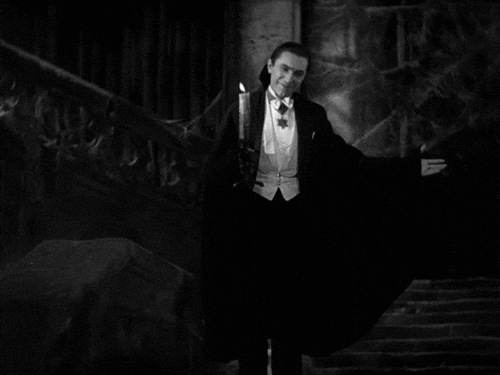 Hey guys I have been meaning to do more this week but in the light of everythings that happened I found there was just so much to say and not enough words. But finally I am actually writing again and I thought I would write all about Vampires for World Dracula Day. In a week that already contained World Goth Day somehow tacking World Dracula Day is even better is it not! Magic timing as usual! So I thought I would pick my five favorite vampires in film to celebrate this auspicious occassion!
So let's start shall we!
5.
Who: The Countess
Played By: Laura Hutton
From What: Once Bitten
The woefully forgotten Once Bitten (the first big screen role for Jim Carrey) stars one of the most conceited vampires of all time The Countess. A vampire drinking the blood of virgins to keep her youthful looks. She's utterly hilarious and the film has one of the best dance scenes ever.
4.
Who: The Girl
Played by: Sheila Vand
From What: A Girl Walks Home Alone at Night
Now a more enigmatic lady vampire is The Girl. She's fantastic and every facial movement tells a story. This film may honestly be one of the best modern vampire movies of all time and it's all down to Vand's fantastic performance.
3.
Who: David
Played by: Keifer Sutherland
From What: The Lost Boys
This shouldn't be a surprise as Lost Boys is the best vampire film ever. Honestly though David is fantastic because of how much a dual character he is even his final shot we see that he may have been a monster but he was also an innocent brought in against his will. It's shocking and fantastic. Also he's hot so theres that.
2.
WHO: Eli
Played by: Lina Leadersson
From What: Let the Right One In
There is a whole list of best child vampires ever. I mean Kristen Dunst in on there but the winner really is Eli. A mean machine with the body of a child Eli is both sympathetic and utterly scary. The swimming pool scene still gives me chills.
1.
Who: Lestat De Lioncourt
Played by: Tom Cruise
From What: Interview with the Vampire
The Interview with a Vampire movie is still one of the most lavish vampire films and I am obsessed with the aesthetics of it and whilst Tom Cruise on paper should have been awful as Lestat he was utterly bewitching. He really is as he says in the books " a perfect devil".
Happy Dracula day everybody!!!
Whose your favourite onscreen vampire?