It's Halloween and the last day of both Halloween week and October itself. Ghoul Grumps has been fantastic, I've watched a ton of creepy stuff on tv and Jontron released a halloween special last night. Theres plenty to be happy about this time of year take a look inside for some tricks and treats!
BEST MOVIE
Well it's kinda obvious right! It was always gonna be HOCUS POCUS this Halloween.
SJP's look in this is goals honestly
PRETTIEST THING (s)
IT"S A DOUBLE BUBBLE FOR HALLOWEEN!!!
(I am not endorsed by these companies. It's just cool stuff I like)
so
1. This is Axiology's lipstick in the shade Desire. It's a bright badass purple that reminds me of the purple lippie I had when I was in my teens. Unlike the cheap purple I sported badly in my teens this one os made of natural oils and is organic so you can eat it if you really have to!!
LOOKIE HERE
2. Marilyn Manson team up with Killstar on a fashion colaboration. it's all good but the only thing that i'd wear is this super cute dress. If it turns up in the sale IT IS MINE!! LOOKIE
HERE
Melanie Martinez is doing a perfume and the ad is gorgeously creepy. You'll all love it
THINGS TO FEAR AND FLEE
These ones are ever so slightly halloween themes do expect scares and plenty of weirdness this week!
remember guys the one in Bold is my pick of the month
SHAMELESS PLUG I WROTE A POST FOR MAXIMUM POPS HALLOWEEN COVERAGE
READ HERE
BONUS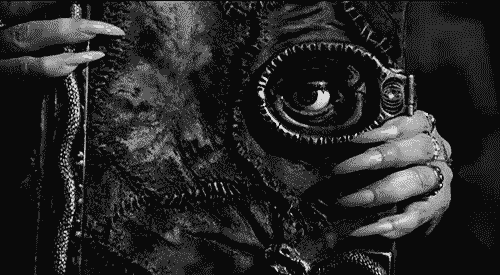 Electric Literature gives you guys a creepy reading list with 11 novels with emotional ghosts
HERE
LISTEN TO THIS
If you like me are huuuuuuuge Postmodern Jukebox fans you'll be pleased to note that Robyn Adele Anderson (one of the singers) 1. has her own badass channel of cool covers and 2. has realised a creepy cover of Every Breath you Take. It's pretty damn scary!
Blogger of the Month
This months blogger is Sarah from Things Sarah Loves. She has a monthly column about her faviorite teas so obviously I was destined to find her!
So that was Halloween guys. I'm now off trick or treating but I'll see you back in November!!
also have some cool stripey shoes and socks pic from my costume
BYE GUYS AND GHOULS HALLOWEEN WEEK IS DONE