Firstly as a pre-thanking thank you I would like to thank the blogging gods for making it so that I could use a picture of a snowy Samuel L Jackson as a Christmas image.
ANYWAY minor digressions aside here are some festive Thank You's for Thursday a series I have decided to do most Thursdays this Blogmas.
1. Thank You Netflix for your Christmas Special
Tomorrow is the 4th of December and the day that Netflix's super starry Christmas special debuts. "A Very Murray Christmas" starring a bevy of talent from the titular Bill Murray to the lovely Jason Shwartzman, Michael Cera, Amy Poehler and the Clooney himself! Also it's directed by Sophia Coppola (I may not be her biggest fan but Marie Antoinette is one of my fave historic movies. this thing is going to be excellent.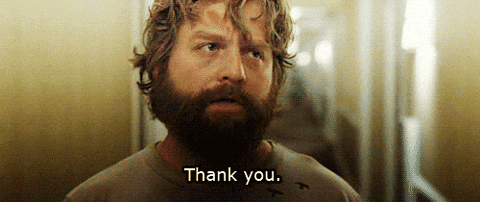 2. Thank You to anyone putting Hateful 8 stuff out
I can't even get words together other than THIS WILL BE BRILLIANT, I LOVE THE LOOK OF THIS, Oh and GIVE IT TO ME NOW!!!
3. Thank You to my Dad for this upcoming Sunday
Exciting stuff guys on Sunday me and my Dad are going to see "Victor Frankenstein", I'm super excited it looks right up my street. Plus its gonna be great no matter what.
4. Thank you to the guys behind Alice 2: Through the looking Glass
I have been waiting for this since I was a tiny teenager who was desperately in love with the first one. the next one will be epic and I thank you all for making it. I love Mia!!!
5. THANK YOU SUPER HEROS
Finally my two favourites are on the big screen and don't they look gorgeous. I CANNOT DEAL. Gal is kicking ass and Deadpool has a nice ass. PERFECT ALL ROUND
So Guys what are you thankful for this week