Firstly I believe this may be the first book review to ever be put on this blog. Secondly this the first David Leviathan book I have ever read and I like his style. Thirdly if you are wondering how this qualifies as Blogmas material let me fill you in. "Marly's Ghost" is a remix and modern update of Charles Dicken's famous festive work "A Christmas Carol". I think that more than qualifies it.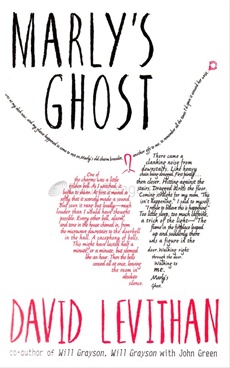 Ok so firstly a summary. Ben's terminally ill girlfriend Marly dies leaving Ben understandably distraught. He peels away from his family, friends and shouts at a gay couple called Tiny and Tim (seriously). Marly then visits him in the night as a ghostly vision and decided to send three ghosts to him The ghost of Valentines Past, The ghost of Valentines present (my fave) and the Ghost of Valentines future.
I think it's important to note you know exactly what will happen. Guy who is upset will change his ways otherwise everyone else and himself will die/ be sad. Thats exactly what happens really but its more than that. It's actually a really well crafted loveable little book.
I will say i'm kinda confused as why Ben was hated for grieving though. like some people need more time to grieve than others but thats besides the point. Some of it is obviously directly taken from the original so expect some of the language to seem slightly anachronistic.
But overall it's a great read. The way it deals with Marly's death is really good and everything is really really interesting. I read it in an hour on the train. Also it was nice to see some queer representation often these stories get very very straight so this was kinda great.
Overall go and pick up your copy of "Marly's Ghost" it won't be perfect but its festive, excellent and a perfect stocking filler for teens.