So I decided to go lifestyle-y again. Just to give you an update and a look in to my christmassy days I guess. Don't have much of a reason but I figure it might be fun. Basically I wanted to share a fun little story with you. All names and places have been changed to protect the innocent!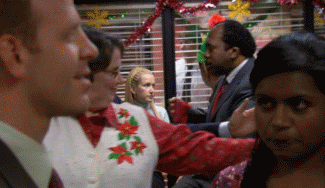 So I helped out at the end of term Christmas party for a kids group (4+) which the youth group I occasionally help with is linked to. It was kinda fun actually lots of games, screaming, sweets. All the usual kids stuff!
I'm currently nursing quite an unfriendly cold so after almost coughing to death after a game of reindeer, reindeer, penguin I decided to run music. It's gone better!!
So we start Pass the Parcel andI'm playing with the spotify playlist on the leader Reginald's laptop. All of the songs seem to be radio edits so I think EFF It, it's Christmas and play the ultimate in Christmas songs, no not Mariah Carey! Fairytale of New York. If you don't fairytale of newyork, the lyrics have a bit of language in them.
Yeah so now around 25 kids have heard some swear words but luckily none of the people noticed and some of the mums just laughed at sung along. It's kinda funny actually. And in all honesty it is still the superior Christmas song!!!
Here it is btw